Although the rise of the online entrepreneur or the stereotype of the corner shop owner, today's small business owner in Queensland is much more likely to be a tradie than anything else.
The most typical profile of a small business owner in Queensland is male, aged 45, working as a sole trader in the building and construction industry, most likely a carpenter. In fact, recent data analysis and industry profiling has highlighted that small construction businesses make up the largest share of small business in Queensland.
This finding has emerged as part of Construction Skills Queensland (CSQ) research in the lead-up to Queensland Small Business Month, which runs throughout May. It has highlighted that of the 450,000 small businesses in Queensland, 75,000 are building and construction-focused, representing 17% of all small businesses in the economy.
Since 2015, the number of small construction businesses in Queensland has increased by 5,000 – a growth of 8 per cent.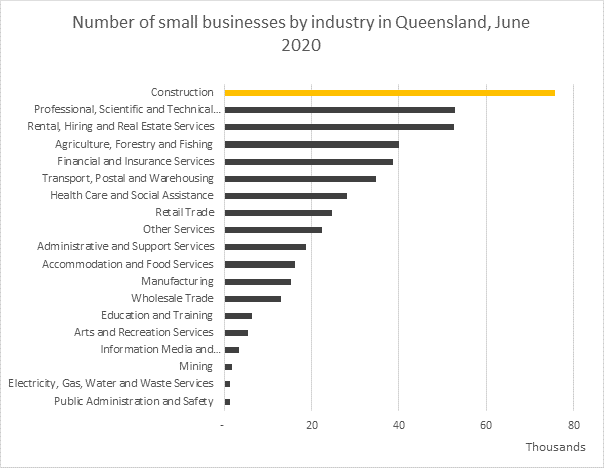 CSQ Research Director Robert Sobyra said that the small business tradie number is likely to continue growing with elevated home building activity.
"More small businesses have sprung up over the last five years, and we would expect this to continue even more so off the back of the current building boom.
"While the construction industry is a massive employer – employing 225,000 Queenslanders – two-thirds of these people work in a small business," Mr Sobyra said.
"Ninety per cent of Queensland's construction businesses have a staff of fewer than 5 people, and sixty per cent of them are working solo," he said.
"The construction industry really is the home of small business in Queensland."
Mr Sobyra said one of the benefits of attracting people to working in the construction industry was the ability to quickly become your own boss.
"It is not uncommon to find a tradie in their mid-twenties who has set up their own business and will move on to employing staff before they reach thirty.
"This is a much quicker trajectory than what you will find in a corporate setting.
"The building and construction industry rewards hard work and initiative, and young people can quickly move into business ownership.
"But the flipside of this is that many of these new business owners do not have the professional experience and business management skills to run a business to its full potential.
"They are also extremely time poor, so don't believe they have the space to study or train to get these business management skills," he said.
CSQ encourages small businesses in the industry to take up heavily subsidised training opportunities designed to help them bridge this gap.
"CSQ has a range of courses specifically designed for small construction businesses, particularly to help new business owners get essential skills so that their business can thrive. These include courses covering various essential areas such as financial management, legal requirements and risk management."
May is Queensland Small Business Month. CSQ Research Director Robert Sobyra will present CSQ's industry profiling data and other insights at the Small Business Friendly Conference on 30 April 2021.
Information about CSQ courses for small business can be found here.
For more information on how to start your own small business, see our guide here.