With smartphones removing the headphone jack, we have all embraced the wireless headphone revolution. However, what happens if you want to use your expensive wireless noise-cancelling headphones to watch an inflight movie? Twelve South AirFly Pro has solved this problem.
What is a Twelve South AirFly Pro?
The AirFly Pro is a travelling accessory that lets you convert headphone jack audio into a Bluetooth signal for wireless headphones.
WHY should you buy a headphone jack to Bluetooth adapter?
Chances are you now own a set of wireless earbuds or headphones. With most smartphones now only supporting Bluetooth audio connection and the convenience of wireless connection when working with a PC, the days of wired headphones are numbered. However, older cars, most Gyms and aeroplanes still only support analogue headphones or audio connection.
Watching a movie on a plane without noise-cancelling headphones is terrible. This simple device means you can bring one set of headphones rather than multiple.
A headphone-to-Bluetooth adapter lets you connect your expensive Bluetooth noise-cancelling earbuds to the aircraft inflight entertainment system. Alternatively, some adapters do the opposite, allowing you to stream audio from your smartphone via Bluetooth to an adapter that allows audio in (aux in) to an older car to allow you to playback through the in-car stereo system.
What is in the Box?
You will find the AirFly Pro, a USB A to USB-C cable, a carry pouch, an airline headphone adapter, and a key ring storage plug in the box.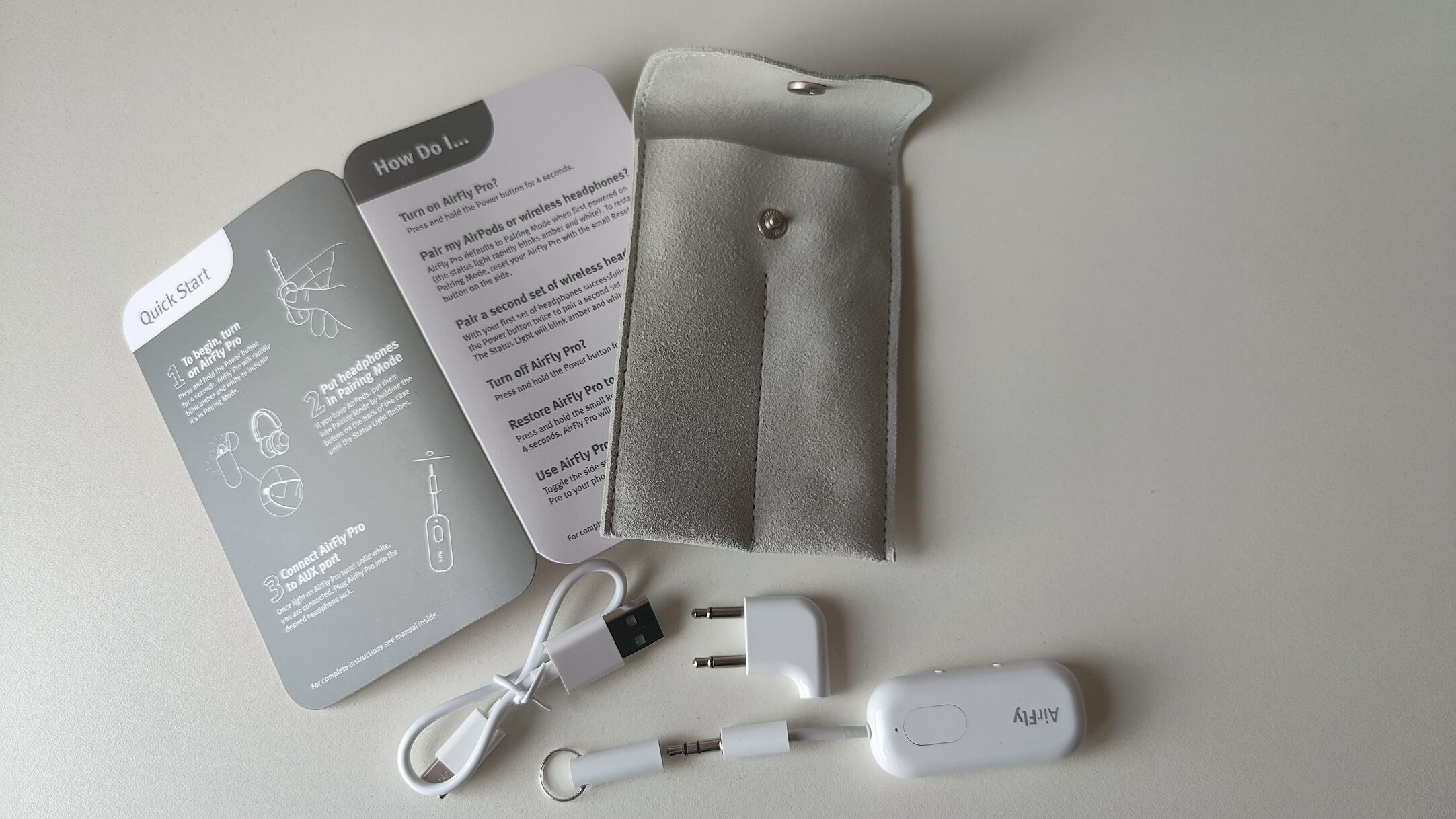 The AirFly Pro weighs 16 grams and measures 57x26x11 mm. Charging via a USB-C cable takes less than 2 hours and can be done whilst in use.
Even without access to power, the AirFly will last around 25 hours of use from its internal battery, keeping you entertained for even the longest flights from Australia, assuming you can stay awake that long.
At $55, the AIrFly Pro is an economical solution to improve your audio enjoyment.
Using the AirFly Pro
After charging, the AirFly Pro adapter connection to my earbuds was as simple as putting both devices in pairing mode, which, for most devices, is holding the power button down until an LED starts to flash. Once connected, plug into your audio source and enjoy. If on a plane, you must use the two-pronged plug adapter to fit the aircraft's anti-theft style plug in your seat.
A neat feature of this device is the ability of 2 sets of wireless headphones to be paired, meaning that you and a friend or the two kids can now share the audio output source. I found this great for watching a movie on a tablet while travelling with my wife. (Tablet must have headphone socket)
The Value of the AirFly Pro comes out with the audio-in feature. By toggling a small switch on the side of the AirFly, you can change from transmit (Tx) to receive (Rx), allowing you to stream audio from a smartphone to a car, boat, or home stereo audio input. You benefit from the connected device's bigger speakers and more powerful amplifiers to listen to your audio without headphones. As your phone is already paired, it is as simple as flicking a switch and selecting your app for playback.
Our Take AirFlyPro review.
The Twelve South AirFly Pro is a simple, inexpensive accessory that allows you to use old and new audio technology to ensure the most enjoyment and listening quality. Whether you want to use your latest noise-cancelling wireless earbuds on a flight to filter out the background noise and enjoy the movie or blast your streaming playlist on your 10-year-old convertible as you power down the highway. Maybe you want some peace and quiet in the car and entertain the kids in the back, allowing them both to listen to the latest episode of Bluey with wireless headphones.
Easy to use and small to carry, the AirFly Pro provides flexibility to improve audio playback by mixing analogue wired technology with wireless Bluetooth.