Noise-cancelling headphones are no longer just for call centres. Our new world is filled with video calls, open-plan offices or working from home. Noise cancellation has become more important than ever before. We look at the latest high-end business headsets, the EPOS IMPACT 1061 review.
What is an EPOS IPACT 1000?
The 1000 series from EPOS lets you choose between a single or double-sided (ear) headset, whether noise cancellation is a feature (ANC), which applications you will use, Microsoft Teams or Unified Communication, and if you require the charging stand.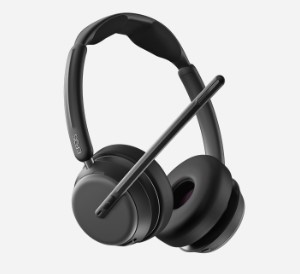 The EPOS IMPACT 1061 is a high-end wireless headset designed for professionals who must make clear calls and collaborate effectively in noisy environments. It features active noise cancellation (ANC), a high-quality microphone, and a comfortable design.
The ANC effectively blocks background noise, such as traffic, construction, and office chatter. This allows you to focus on your calls and meetings without being interrupted. The microphone is also excellent, with clear sound quality and good noise suppression. This makes it ideal for video conferencing and online meetings.
The IMPACT 1000 is comfortable to wear for long periods. The ear cups are padded with memory foam, and the headband is adjustable. The headset also has a sleek and stylish design.
In addition to ANC and a good microphone, the IMPACT 1061 also offers several other features, such as:
Triple Bluetooth connectivity: Connect to up to three devices simultaneously to easily switch between calls and music.
Wireless charging: The headset has an optional wireless charging stand, so you can easily top up the battery without plugging it in. Unlike some other models available, this stand does not have any wireless capabilities for enhanced connection.
Long battery life: The headset can last up to 30 hours on a single charge.
Durable build quality: The headset is made from high-quality materials and is designed to withstand everyday use.
The IMPACT 1061 is also compatible with the EPOS Connect App, which offers several additional features, such as:
Active noise cancellation (ANC) presets: Choose from various ANC presets to optimize the noise cancellation for your environment.
Sidetone: Adjust the sidetone level to hear your voice in the headset.
Equalizer: Adjust the EQ settings to customize the sound profile.
WHY should you buy wireless noise-cancelling headsets?
EPOS markets these headsets with a feature called BrainAdapt. Put simply, this is just a fancy name for noise cancellation. The theory is that reducing the amount of background noise makes it easier for your brain to concentrate. We are massive fans of noise cancellation. More commonly called ANC or Adaptive Noise Cancellation.
These EPOS headphones not only reduce background noise for the wearer but also reduce background noise entering the microphone. Hence, the person at the other end also has an enhanced experience.
The result is both parties can clearly hear one another, and the conversation is easy to understand.
What is in the Box?
In the 1061 T ANC box, you will find the headset, a soft carry pouch, a USB Bluetooth dongle, a 1.2m USB cable and a wireless charging stand.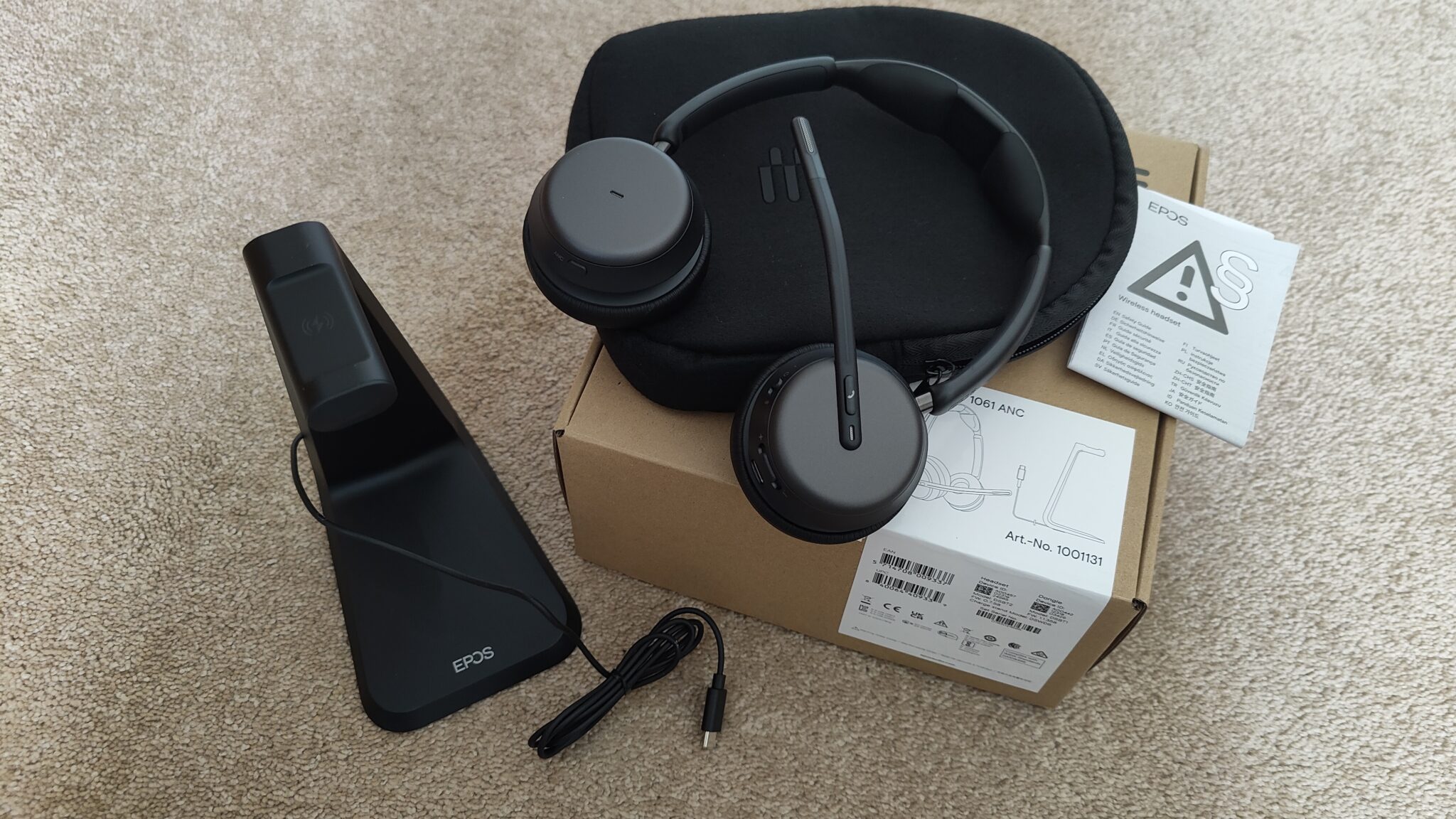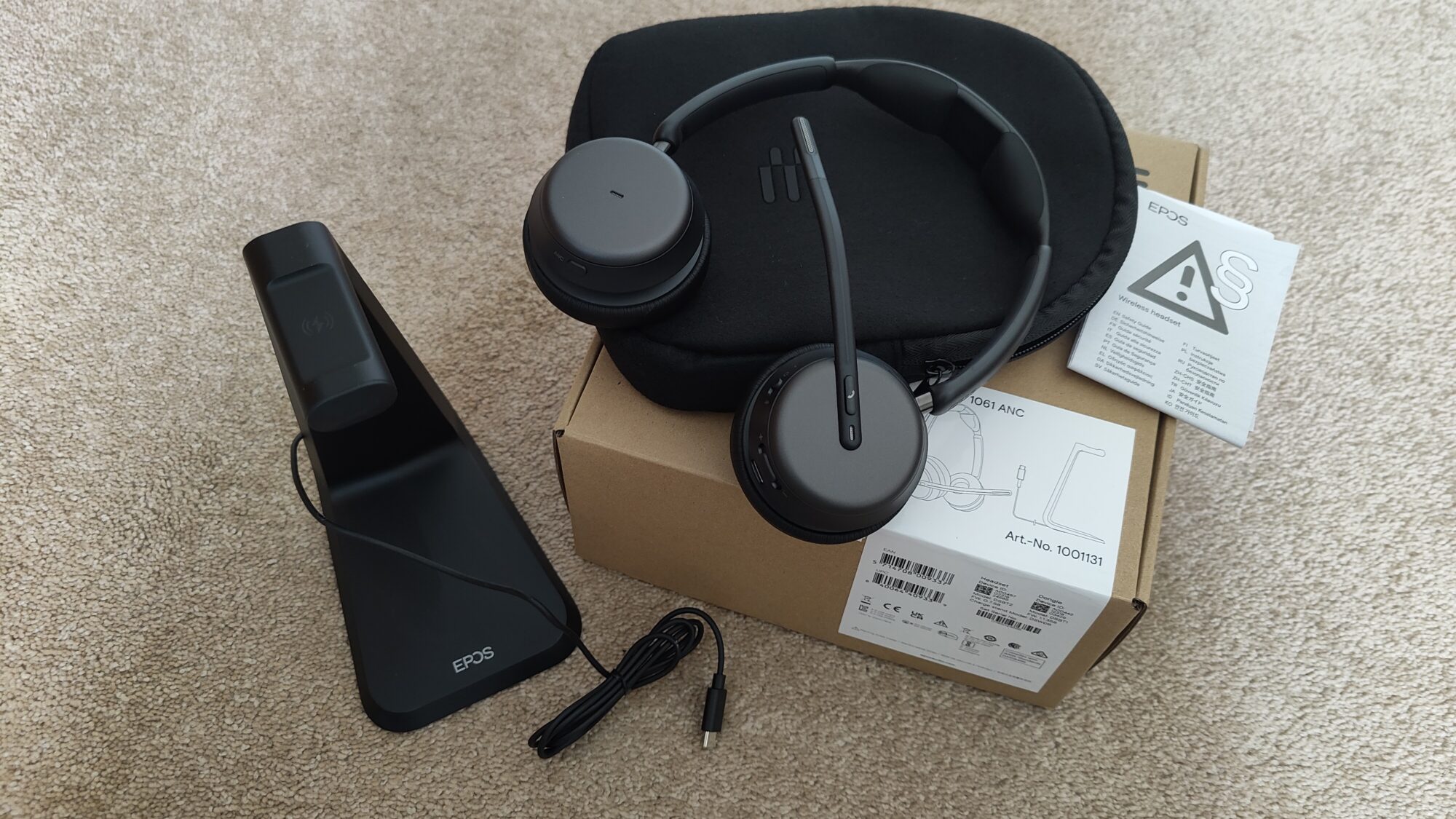 The getting started instructions are written on the inside of the box, which is clever.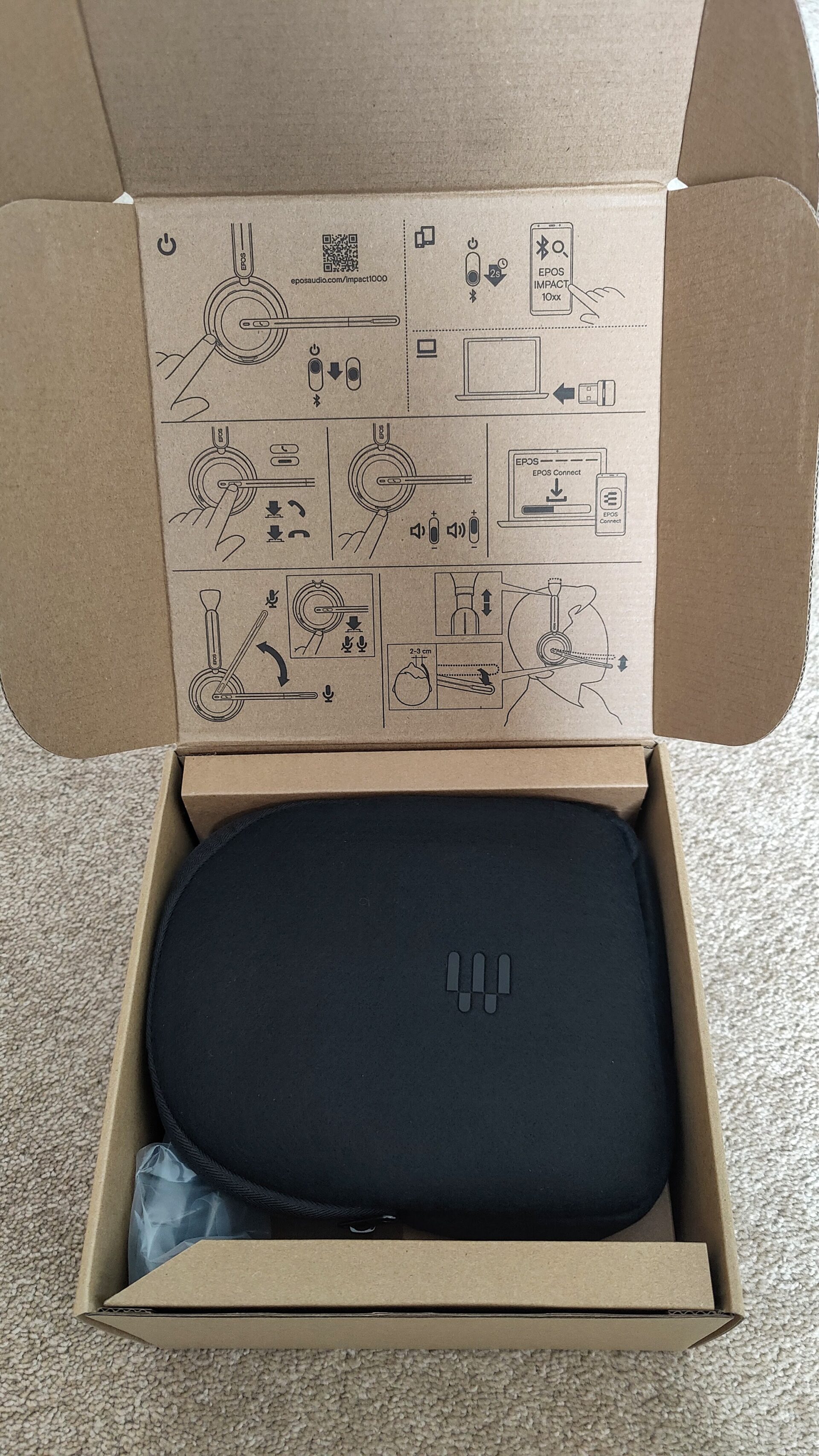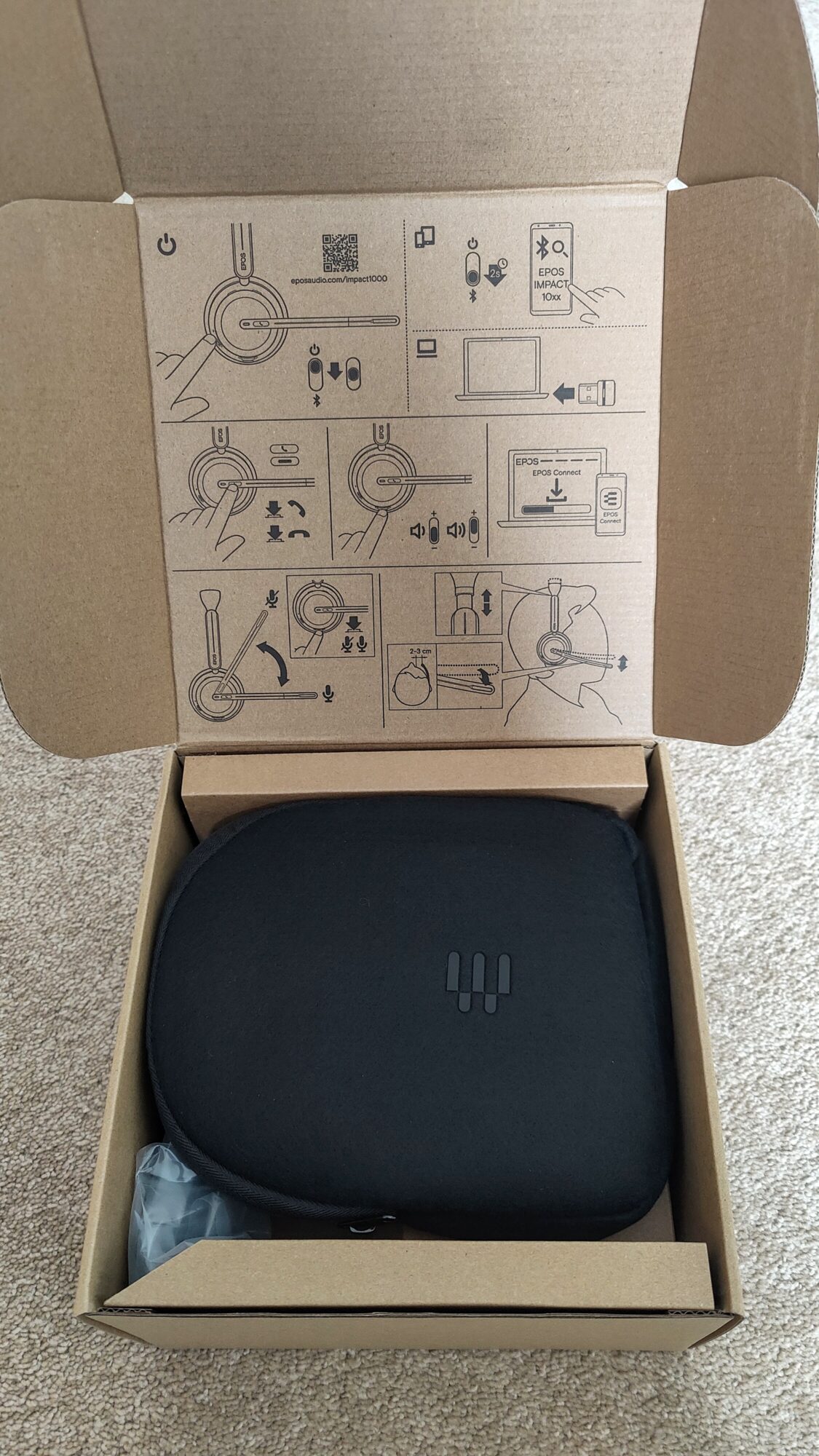 Some additional features of the headset:
The ear cups are made of soft leatherette and are well-padded, providing a comfortable fit.
The headband is also padded and adjustable, so you can find the perfect fit.
The microphone is on a flexible boom arm, so you can position it in the best spot for your voice.
The headset has a touch-sensitive control panel on the right ear cup. This panel lets you answer calls, control music playback, and adjust the volume.
The headset comes with a carrying case and a wireless charging stand.
Prices for the EPOS IMPACT 1000 series start at $485 for single-sided headphone and $659 for double-sided headphones with ANC to the top of the line with a charging stand for $735. The included warranty is 2 years.
Using the IMPACT 1061 headset
My go-to test for any headset I test is walking the street while calling my mother on a telephone call. This is the ultimate test for both parties to see the effects of cars, trucks, construction, lawnmowers, etc. I am pleased to share that these headsets deliver and have the best ANC for the user and recipient I have ever tested. This is key because it really is the point of these headsets and also goes a long way to justify their top-end price tag.
These headsets are also designed to be worn all day, so they must be comfortable and not give you a headache from pushing on your head. The microphone must also not be intrusive. Everyone's head is different, but I found these headsets to be very comfortable. The button on the bottom of the left earphone (The microphone is normally on your right) allows you to easily enable talk-through mode, allowing conversation without removing the headphones. I also found that taking my glasses on and off was not burdened at all by the headphones.
The 30m quoted Bluetooth range is more than enough. I could comfortably walk around all parts of my house whilst maintaining a call.
Our Take EPOS 1061 ANC headset review
The EPOS IMPACT 1061 is a great choice for professionals who need a high-quality wireless headset with ANC. It is comfortable to wear, has a good microphone, and offers several useful features. However, it is also pricey, so it may not be the best choice for everyone.
These headphones have really got noise cancellation right and are just as effective at removing yelling children as workmates.
Also read our guide on buying headsets for business