In a previous article on Registry Australia, we identified a practice of offering business name renewal registration to Australian business owners at an inflated price over and above what the Australian Government ASIC charges. Registration Pty Ltd is up to the same scam.
This year it would appear that more companies can make a living by sending a paper imitation invoice by post to renew your business name. This time a company called Registration PTY LTD has sent Small Business Answers an invoice for $99 to renew its business name for one year. The same renewal through ASIC costs $39, meaning a premium of $60 for the same renewal. This $60 premium, according to their letter, gives you the benefit of dealing with an Australian company with friendly Australian staff. The only advantage we can see is they offer an auto-renewal feature which ASIC does not. Of course, they offer an auto-renewal as every year, they can collect an extra $60 from you, which you do not have to pay. The icing on the cake in their letter is their last quoted benefit is " .. and strive to offer you a fair price."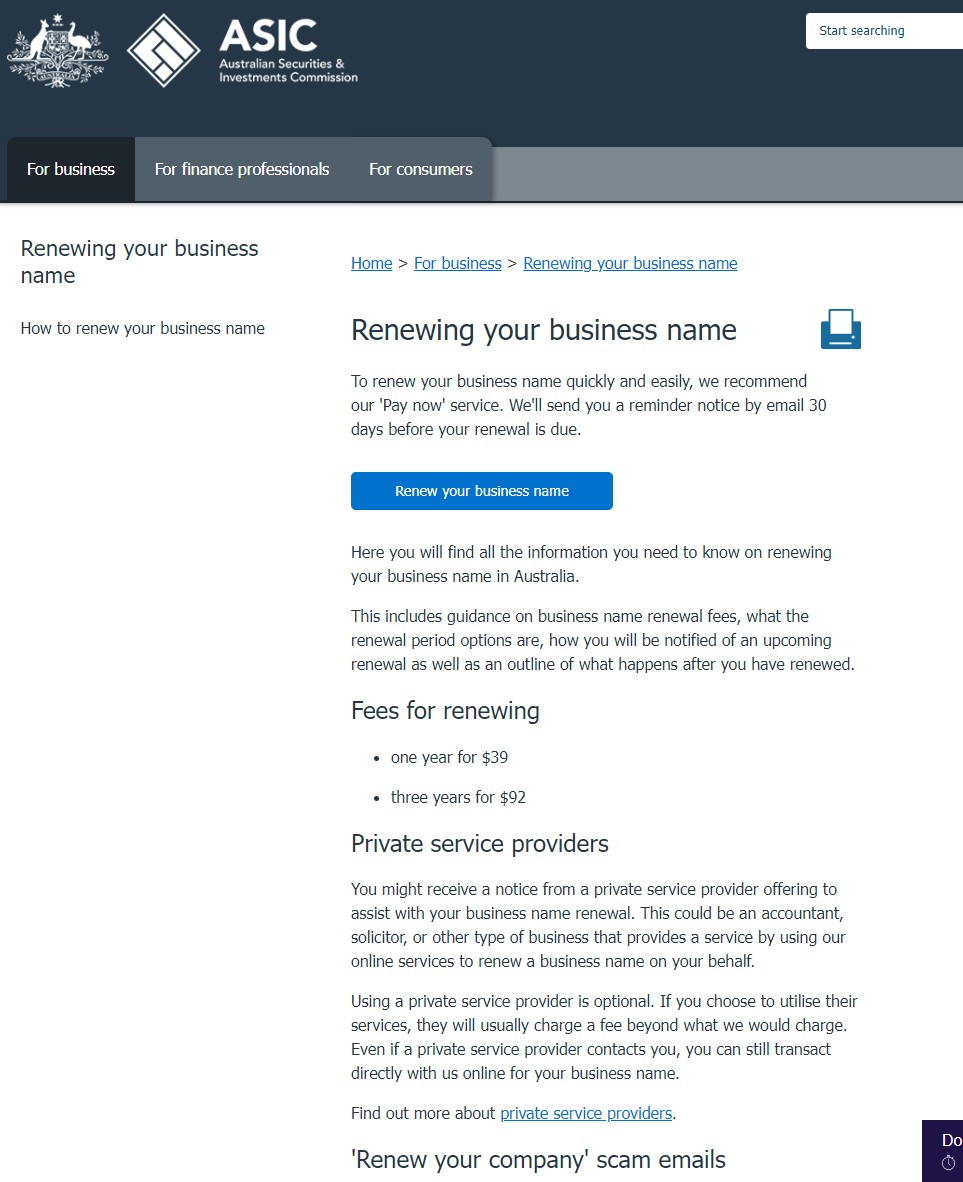 Registration Pty Ltd do offer an early bird discount if you pay before a set date of $10 which unfortunately only encourages the unsuspecting business owner to pay before they receive their official invoice from ASIC (Australian Government)
Registration PTY Ltd does have a box at the bottom of their letter stating that the letter is not a bill and you do not have to pay any money. We do not question that Registration PTY Ltd will not renew your business name registration.
The business registration scams do not end with a letter in the post. A quick internet search will identify other companies advertising business name renewal at a premium. Some of these companies include:
Businessname.com.au
Namecorp.com.au
For further information about these scams, ASIC has a web page warning its customers of this practice.