This product solves a specific problem in the small business environment. Still, you will need to be IT savvy to take advantage of it. We look at the WD Red SN700 to understand what it is and how a small business may benefit.
The WD Red SN700 is a solid-state storage drive designed to be used in a NAS devise to speed up access and saving of files delivering a time saving to users.
What does NVMe SSD mean?
SSD stands for Solid State Disk. An SSD is a storage technology that replaces the traditional hard drive with spinning platters. The SSD is a hard drive storing the data on memory chips, and these chips retain this data when the power is switched off. An SSD is a much faster solution to load and save files to and from and saves a lot of time with the modern computer, especially when booting up a PC.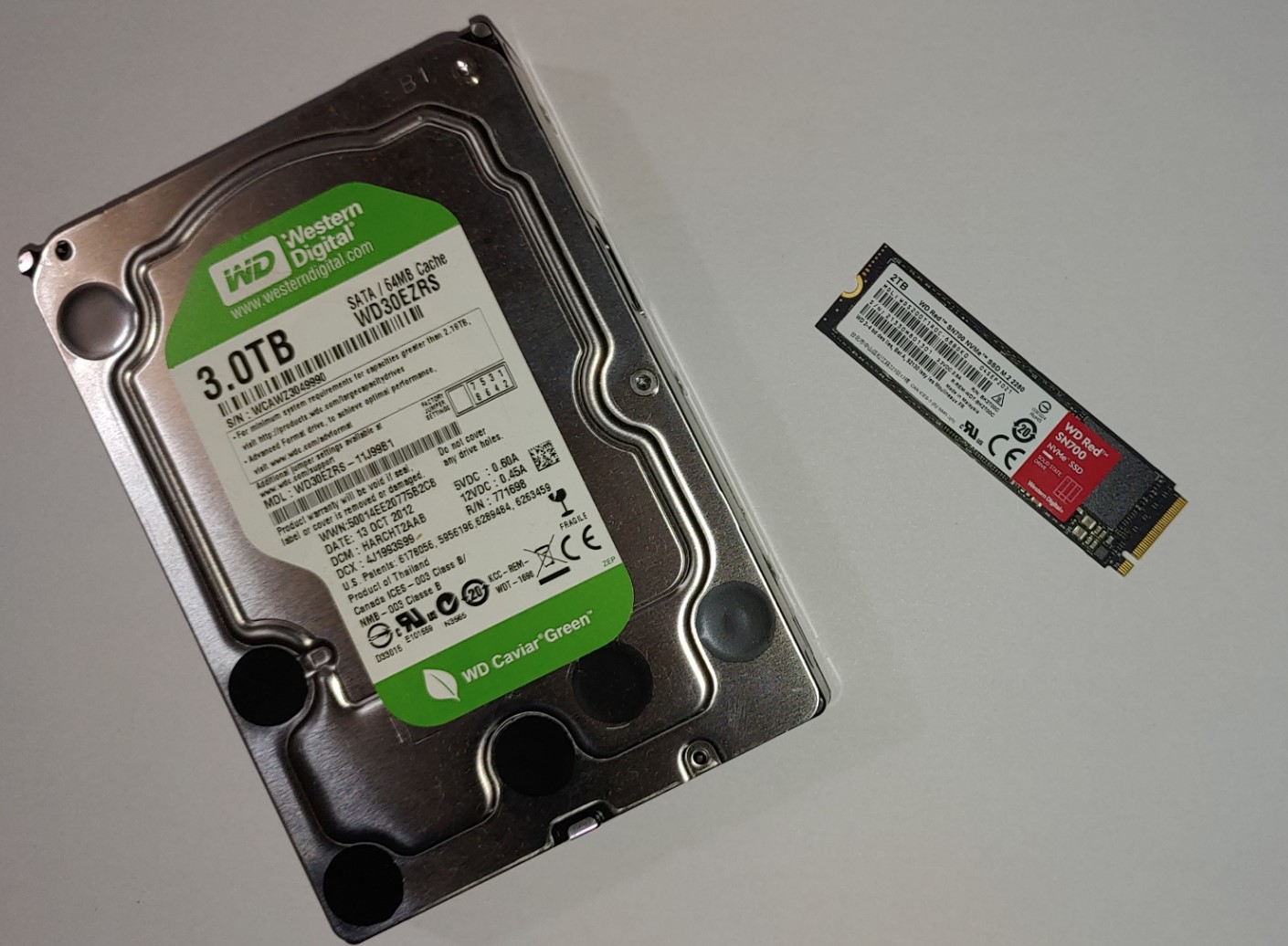 NVMe stands for Non-Volatile Host Controller. To keep things simple, it essentially refers to how this storage disk connects to a computer. That is the type of connecting socket.
WD Red
Western Digital (WD) is one of the worlds leading manufacturers of storage drives, memory cards and computer memory. The WD range of Red products is hard drives and SSD drives specifically designed to go into a NAS. NAS stands for Network-Attached Storage. It is a separate device that allows files to be stored centrally and used by multiple users in a business or home environment. See Small Business Answers guide to a NAS here. These Red storage products are specifically designed to suit high usage and reliability for this critical file sharing function.
Synology DS920+
Small Business answers use this product to backup all files, store photos and share files with multiple users. A feature of this product is the ability to add 1 or 2 NVMe SSD drives which will act as a cache to improve data access times from the NAS by up to 20 times. Essentially the most commonly accessed files are held in the cache, ready for a user to access it rather than that data having to be found on a spinning hard disk. Thus, the speed increase.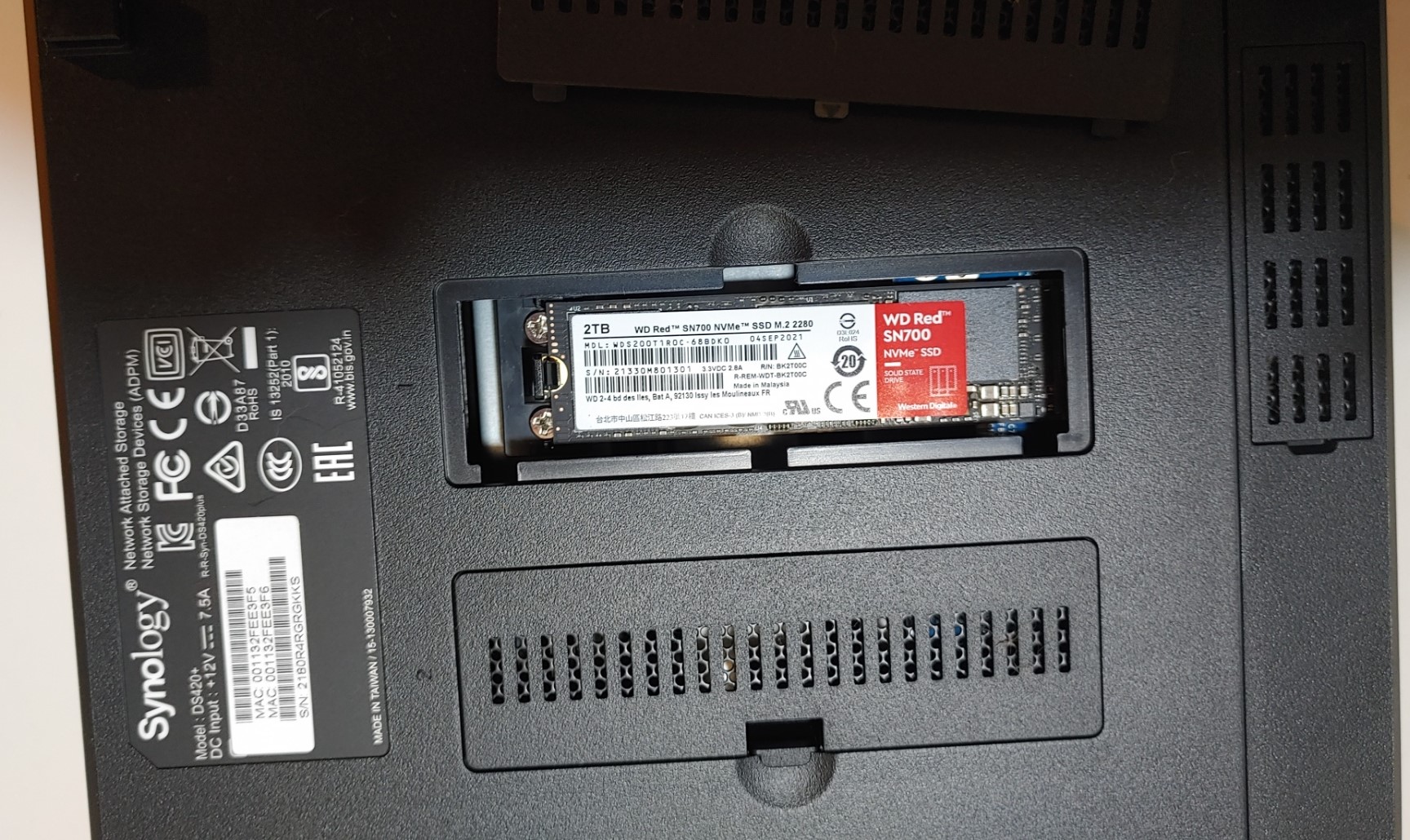 The DS920 will allow read-only cache if you use one SN700 stick and read and write if you use 2 sticks. Note if you are using the cache for writing, data could be lost if you had a power outage at the wrong time. This could be solved by using a UPS or Uninterrupted Power Supply (Back up power from a battery)
The Synology DS920 has a system tool to calculate what size SSD you would require based on your workloads.
The SN700 was very easy to install and was operational after a few simple clicks in the Synology Dashboard.
WD Red SN700
The WD Red SN700 NVMe SSD is available in various sizes 250GB, 500GB, 1TB, 2TB, and 4TB.
It will support the toughest workloads, including collaboration, editing, virtualisation and busy databases.
Although we tested the product with a Synology NAS, the SN700 will work with most of the popular NAS systems available from multiple vendors.
The product comes with a 5-year warranty and can read at speeds up to 3400MB/s and write at speeds up to 2900MB/s.
Prices for the SN700 were seen online, starting from $99.
To get the most out of this solution, your network should be capable of 1Gbps between devices.
What benefits Small Business experience from using the SN700
Time is money, and this product is designed to speed up the accessibility of shared files within your workplace. If there is lots of collaboration of files, you will see the most benefit. If there is little sharing and the NAS is used mainly for backup, this product may not reap any benefits.
In summary, users who access lots of documents or images via a NAS will benefit from adding this Western Digital NVMe SSD to their NAS.