More and more people are buying 2-way radios for their overland or marine adventures. The frequencies differ for each: UHF for land and VHF for water. This means having a separate 2-way for each. We review the Uniden MHS157 dual band VHF/UHF 2-way radio that enables you to have one handheld offering land and marine in one radio.
What is VHF vs UHF radio?
VHF stands for Very High Frequency and supports the marine 2-way frequencies used in Australia. You should possess a Marine radio or short-range radio certificate to operate a VHF radio. VHF Marine radio is used for all marine traffic, distress, and safety calls. A good practice when going out in your boat, especially offshore, is logging into and out of the local Marine rescue base using Channel 16. Marine weather is also transmitted on these frequencies. For safety and inter-boat communication, most boats carry a VHF radio.
UHF stands for Ultra High Frequency and is the primary band for land-based 2-way communication. No license is required to use it; you will find it used in restaurants, retail stores, job sites and farms beyond recreational use. Any serious RV traveller, truckie or 4-wheel driver will have a UHF 2-way radio.
We previously wrote a guide to buying a handheld radio or walkie-talkie. VHF and UHF radios can be bought in either 12-volt inbuilt units for a vehicle or boat or as a handheld unit containing a battery power source. Different models can transmit at different power outputs of up to 5 watts, which will determine the range the other party will receive. Many other factors affect range, including antenna type, topography and obstacles.
A UHF radio is for land use, and a VHF radio is for Marine Use!
Uniden MHS157 dual band VHF/UHF Features
Many people will buy a UHF radio for land use and a VHF for marine use. Most, including myself, had no idea you could have one unit to achieve both. Uniden is the only brand in Australia to produce dual-band radios for consumers.
The MHS157 is bright yellow, so it is hard to miss, especially if you drop it overboard. If you did, it will float and is also IPX7-rated. It would be best not to intentionally give your radio a swim. Still, IPX7 means it is designed to withstand 1 metre of submersion for 30 minutes if you do. If your boat turned over, the radio would float, and you could call for help.
Transmission power determines how far your voice will travel. When used in close range, you do not want everyone in long range listening to what you say, so a lower power is more suitable. A lower transmission power will also extend battery life. Both bands have low, medium, and high power settings, and the transmit key (push to talk button) has a second transmit button labelled boost. When pressing this button, it automatically transmits at the highest level, no matter your default power setting. In Marine VHF mode, the choices are 1W, 2.5W and 5W. In Land UHF mode 0.5W, 1.5W and 2.5W. Note that other UHF handhelds can legally transmit at up to 5W.
The VHF features include a dedicated weather channel key, which will tune you into channel 67 for Australia, where weather forecasts are regularly broadcast. A triple watch mode allows you to monitor three channels simultaneously, such as Ch16 for emergencies, the weather channel, and another channel you might be communicating with your mates. The VHF channels you can access are the international channels, so unlike the land channels, your marine channels will work no matter where you are in the world.
The UHF band has the standard 80 channels available in Australia and will also work with repeater stations, extending your reception up to 100km, depending on conditions. For those wanting more privacy, the UHF can be set up with DCS and CTCSS codes so only the other party with similar settings will hear the conversation.
The Uniden MHS157 Dual Band VHF/UHF retails for $300 and comes with a 3-year warranty.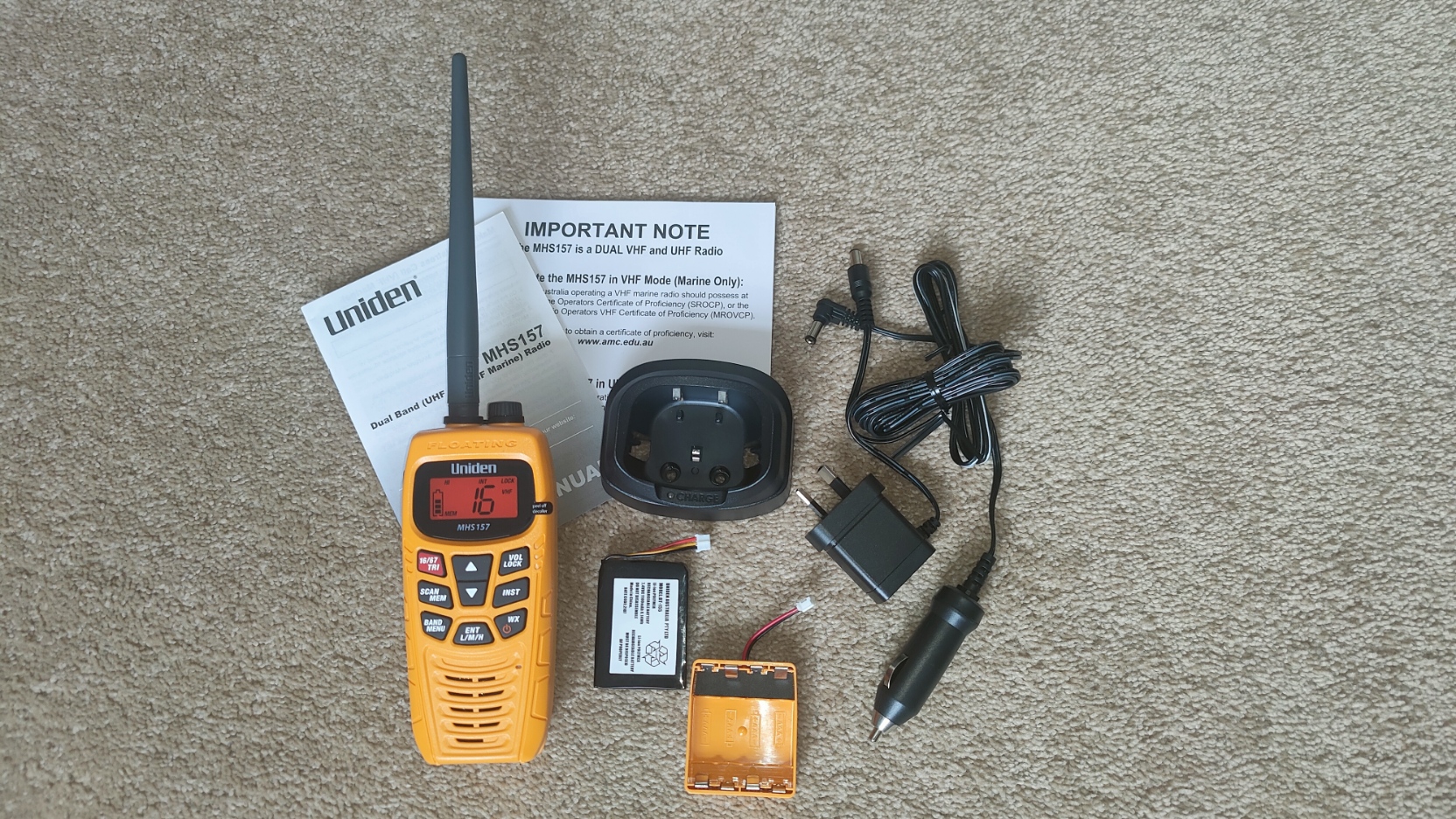 What comes in the box?
You will find the radio with a belt clip and the antenna removed in the box. There are two battery options: an 1100mAh Lithium-ion rechargeable battery or a battery tray requiring 4 AAA batteries (AAA batteries not supplied). The AAA battery option gives you a get-out-of-jail ticket, assuming you have some AAA batteries and no charging source for the Lithium. Note transmission power output is reduced when using the AAA solution.
To recharge the Lithium battery, the Handheld radio is placed in a supplied cradle with a 12-volt cig charge charger lead and a mains power lead.
The radio must be assembled by removing the rear cover, plugging in the required battery pack, replacing the back cover and installing the screw-in antenna and belt clip.
Using the Uniden MHS157
The Uniden MHS 157 Dual Band VHF/UHF radio has a longer antenna than other UHF handhelds, but its construction is flexible and durable. The upside is it is harder to lose. The illuminated display is easy to read with a battery indicator, channel, band, and power setting. Changing between UHF and VHF is as simple as pressing the Band/Menu button once. Keylock can also be activated to stop you from invertedly changing channels, etc.
Voice reproduction is clear and loud with the squelch at the default setting. Squelch helps to cut out the background hiss enabling clearer reception.
We did not like the belt clip, which seems less useful than what we have seen in other models with a spring clip. We would have liked to have had the ability to scan all channels rather than a select few. However, this is more for fun than practicality.
Two features we like that we have not seen before include a vibrate function when a transmission is received on the UHF and a busy channel lockout, which stops you from transmitting when the channel is active.
Note the knob on the top at the left is not for volume but a waterproof cover for an external speaker to be connected.
Summary – Dual Band VHF/UHF Radio Review
If you own a trailer boat and a four-wheel drive to tow it, then the Uniden MHS157 Dual Band VHF/UHF radio is for you. One device will fulfil most of your basic 2-way needs with your safety and communication covered.
Even if you don't own a boat, this unit makes a great handheld to pair with an in-car mounted UHF. Suppose your are camping on the beach, and you can also use it to communicate with your mates out in their boats and for in-car to handheld communication.