Small Business answers have tested a lot of headset solutions for small businesses in the last year. We have tested over-ear, on-ear. earbuds, and all of these have their positives; however, today, we will Talk about the Jabra Talk 65 Bluetooth mono earpiece/headset. We like these so much that they are planning to become the daily drive, so to speak.
Situation
In our Small Business Answers guide to a headset for business, we look at the various factors you should consider before buying a headset.
Depending on the features and the style, some headsets are better than others. Different models suit different scenarios, Like:
constantly removing your headset
comfort if you leave it on all-day
hearing in noisy environments
being heard in loud environments
Other factors that come into play include using the headset away from your desk, whether within the office, on the street or in a car.
The Jabra Talk 65 is a headset for the mobile worker on the go who is unlikely to compete with many other people on the phone.
As a Work from Home small business person, I don't have background noise, and I don't have that many calls. However, I make calls whilst I am out walking and almost always whilst in the car.
The Talk 65 appears to be the reinvention of a Blueparrott product that Jabra purchased. Blueparrott is known for solutions targeting professional drivers in North America.
Comfort & Range
I have been trialling the Jabra Talk65 now for a few weeks. The earpiece wraps comfortably around either of your ears and has a quoted range of up to 100m from your smartphone or PC.
This model will also suit people who do not want anything messing up their hair.
This morning I was one story below and on the opposite side of my house to my phone. I cursed, realising I was expecting a call. I then remembered I was still wearing the Talk 65. It is so comfortable I forgot I had it on. Even with my most comfortable stereo on-ear headsets, I still feel I am wearing them. Better still, I can walk halfway up my back garden before I lose Bluetooth connection with my phone. Thus, I can still make a call and leave my phone behind. If you go out of range, the earpiece chirps to let you know, then tells you once you are reconnected with a pre-recorded voice.
The unit is so light (20 grams) and comfortable. My wife has asked me why I am still wearing a headset at the end of the day? You simply forget it is there.
Background noise
Like all good sons, I phone my mother every Tuesday morning, and I always combine this with a walk. Each new headset gets subjected to this, and my mother tells me or, more correctly, complains when a lawn mower or truck is heard. This headset uses dual noise-cancelling microphones to cut a claimed 80% of background noise. I also tested this in the car with excellent results, to which all up, I claim the Talk 65 to be the best noise-cancelling device I have used so far.
Note that there is no noise cancelling in the speaker. This would be pointless anyway, as you still hear everything with your other ear.
The headset is charged by a provided USB-C cable and will give you up to 14 hours of talk time and has up to 17 days standby which will get most people 2 to 3 days between charging. The headset can be paired to up to 8 devices at once, with 2 connected simultaneously. E.g., like a smartphone and a tablet at once.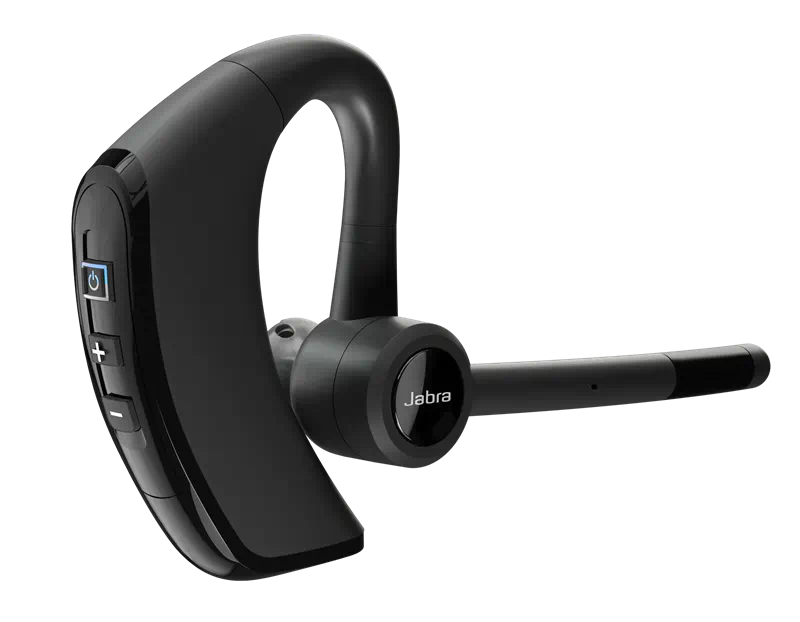 Other features
The initial connection is simple via NFC or Bluetooth discovery and supports Bluetooth 5.1. So far, I have found it reliably connects every time. You will also find 2 additional sets of ear gels in the box, which cater for different size ears.
Once connected to your phone, when not on a call, you will hear any navigation prompts, podcasts, music etc. In addition, a tap of the main side button will activate Siri or Google assist.
Other buttons on the headset allow the unit to be switched on or off and adjust the volume.
The Talk 65 has an IP54 rating which means that it is resistant to water and dust. The unit appears pretty durable but should still be treated carefully.
The Jabra Talk 65 is available now from leading retailers at a suggested price of $149.
In summary
I love this product for my personal needs, and it allows me to have clear communication on the go or at my desk. I have the freedom to leave my phone on my desk and still be able to take calls, and whilst on that call, background noise is expertly removed.
The unit is so comfortable and light you forget you are wearing it, and it does not look out of place as you walk down the street.
If you want a hands free experience working from home or walk and talk for $150, this product is a no brainer. Those working with lots of background noise, this may not be the product for you.