For 10 years, I have used a keyboard that came with a PC from a major brand. The letters are painted on, and you can no longer see some of the keys. A and S, to be specific. I liked the mechanical feel of it, and the other keyboards did not feel quite right. Then a week ago, I received a Logitech MX mechanical keyboard. Suddenly my old keyboard did not feel right.
The Logitech MX mechanical keyboard is wireless, battery powered and has illuminated keys. It has a sturdy design and each keystroke has a reassuring feel and sound.
Be sure to read Small Business Answers buying guide to keyboards.
What is a mechanical keyboard?
You are probably using a chiclet keyboard. A chicklet keyboard is a soft touch keyboard where the buttons are part of a membrane of switches.
A mechanical keyboard is one where each key is a physical button, and each time you press a key, there is a distinctive typing sound. When typing on a mechanical keyboard, the amount of play or the depth the key recedes is greater than on other types of keyboards. This gives a very responsive feel to typing. Mechanical keyboards also make the familiar click noise.
What's in the box?
At an RRP of $269.95, this keyboard is certainly at the top end. A Mechanical mini is also available for $229.95, removing the number pad.
Opening the box, you will find the keyboard, a Bluetooth dongle (in case your PC does not have Bluetooth built-in) and a USB-C charging cable (USB-A to USB-C).
You can customise your experience by feel and sound when ordering this keyboard. You can choose between three customised switch types that each have a distinct feel and sound, and your choices are tactile quiet, linear or clicky. See the website before you make your purchase to understand the differences.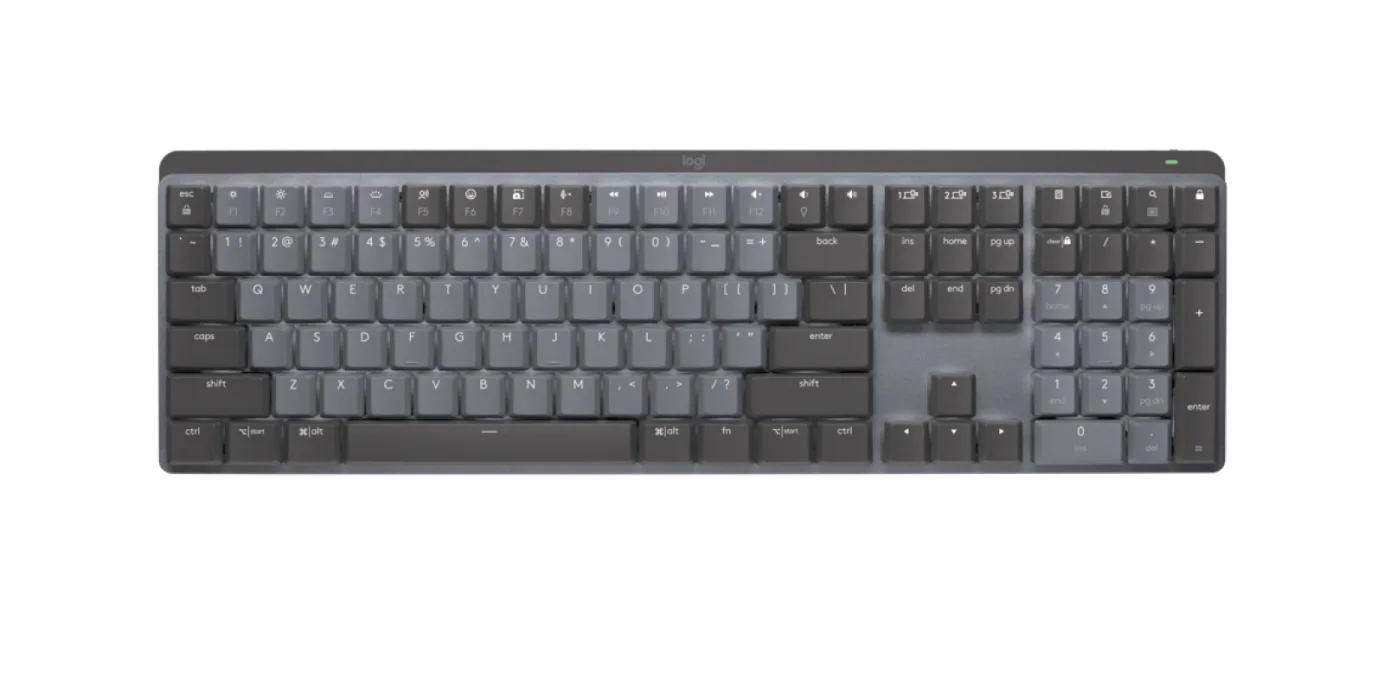 Why should you buy the Logitech MX Mechanical Keyboard?
When you remove the keyboard from the box, it seems very heavy. This translates to what appears to be a very sturdy construction, but more importantly, it sits solidly on your desk and does not move around. This gives you a very solid platform to type from. Not being a touch typer, I find the illuminated keyboard a welcome addition. I have this on my notebook keyboard, and as it gets dark at night, I forget to turn the light on as I do not need it.
The keyboard has many shortcut keys which boost productivity. Microphones can be muted, PC locked, video fast-forwarded or snip instantly activated. If the 24 predetermined keys don't suit, you can customise the keys to perform other shortcut tasks.
The biggest advantage this keyboard has is my typing speed increased. Not because I did some courses but purely based on the tactile interaction. $270 seems a lot, but if my productivity increases, this cost will be covered in less than a month.
Other features of MX Mechanical
If you have more than one computer or a TV or tablet, you would like to connect this keyboard. You can have up to 3 separate devices and seamlessly switch between the three with a simple press of one of three buttons. The keyboard will also suit a Windows or Mac environment with familiar keys symbols for both. If you also have an MX mouse and Logi software. You can control different devices simply by moving your mouse between screens even though they are other PCs. The keyboard will respond to the device your mouse pointer is on.
A handy feature when you forget to regularly charge is that a 15-minute charge will power the keyboard for a full day of use. However, you're probably sitting at a fixed desk anyway, so you could run the supplied cable permanently if you wanted
The keyboard is made from almost 50% of recyclable materials.
Setup
The MX mechanical uses a low-energy Bluetooth wireless connection. My PC is six years old and runs Windows 10. To set up the keyboard, I charged the keyboard to full and turned on the power switch. With no software being downloaded, my PC immediately produced a popup box asking if I wanted to connect the keyboard. I said yes, and it was operational in seconds.
Logitech has a PC application Logi Options+ from which firmware can be upgraded, keyboard shortcuts can be customised, backlight turned on/off, and battery saving mode toggled. A handy feature is the customised settings can be backed up to the Logi cloud.
Customisable keys can also be application-specific which is extremely useful to those in creative or engineering type fields.
The battery percentage indicator is shown in the app and the windows Bluetooth page. My Battery usage so far has been around 2% a day.
Logi quotes up to 15 days of usage with the backlight setting or 10 months with the backlight off between charges.
Should you upgrade your keyboard to a Logitech MX mechanical
If you could be more productive by typing and activating functions faster, would that be worth spending $270? The Logitech MX mechanical keyboard was a surprise as I did not believe it would have such an impact on my productivity.
The backlit keyboard and shortcut keys enhance its capability. Its sturdy construction and weight ensure its stability as you type. Keys are responsive and give a reassuring tactile feel and noise.
The setup is seamless, and within minutes you could also have customisable keys to suit specific application functions.
Note if you want a silent keyboard, this is not the one for you.