A Wi-Fi extender will allow you to extend the Wi-Fi coverage within your business or home.
If you are in the market for a Wi-Fi extender, we suggest you read Small Business Answers guide to Wi-Fi extenders first.
The DAP-1900 D-Link AC1900 Mesh Wi-Fi Extender allows you to overcome dead zones by retransmitting the Wi-Fi signal from your existing Wi-Fi router, as shown in the diagram below.
The setup is super easy and can be as simple as powering the extender and pressing the WPS button on your router and the extender. A more complicated setup can be done either via an App or from an internet browser.
A more complicated setup would be if you wanted to connect the extender by ethernet, thus removing the requirement to be in the Wi-Fi range of the router or setting up a non-mesh network with a different Wi-Fi network name.
A Mesh network requires both the router and extender to support mesh and enable a common Wi-Fi network name. This means that you can seamlessly move throughout your wireless network without degradation of internet service quality.
The DAP-1900 supports a wireless AC network (802.11ac) which refers to Wi-Fi technology. Note this is 2nd latest technology and is fully backwards compatible with all previous versions. The newest version is AX, but it is most likely if you were going to AX that you would be buying a new router as well. Thus The DAP-1900 is excellent for extending your existing Wi-Fi router with speeds up to 1900Mbps. A simple explanation of Wi-Fi versions is the later the version, the faster the network speed. Note it is most likely your NBN connection speed will be your weakest link having the lowest speed.
Why do we like this extender for small businesses!
Simple to set up.  You do not need to be an IT whiz to rid your workplace of Wi-Fi dead zones.
Ethernet backhaul. You can extend your wireless network using ethernet. You could have a Wi-Fi network in a back shed or down in the warehouse where today's Wi-Fi signal does not stretch. You will need to run an ethernet cable which can be bought in long lengths from an office supply store, or an electrician can help you out.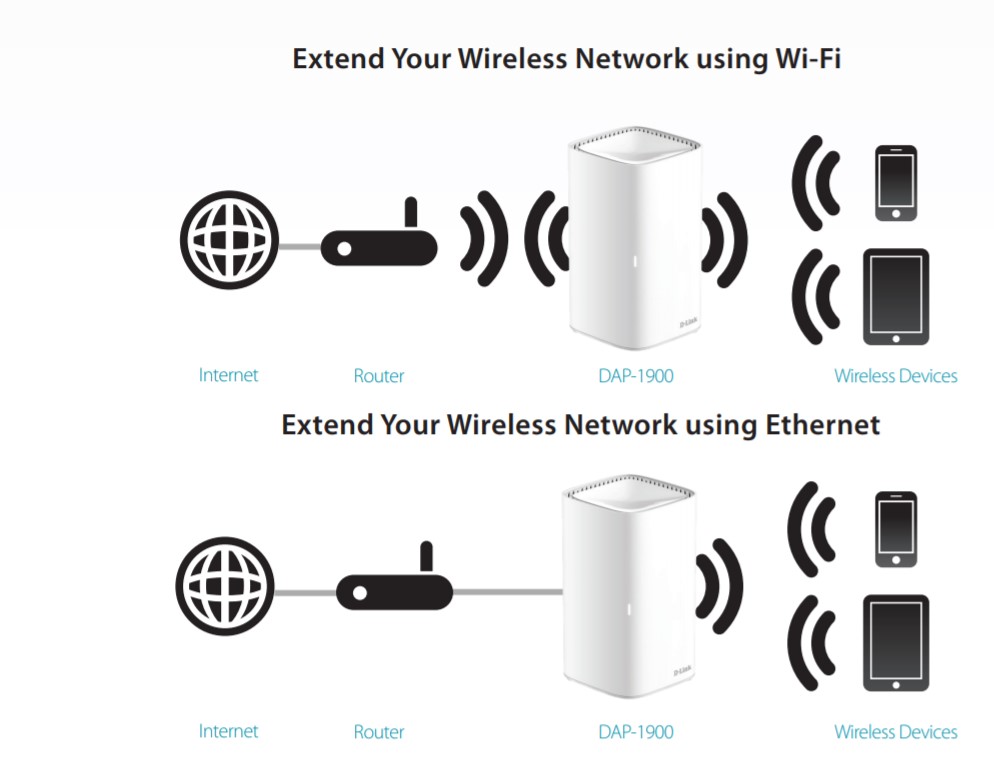 Ethernet ports. Not everything in your office supports a Wi-Fi connection. A printer or network storage device may need an ethernet connection. Where your NBN is terminated, and your router is located may not be a convenient spot for that ethernet printer. The DAP-1900 has 4 ethernet ports on the rear of the unit, giving you lots of flexibility over an extender that may have zero or 1 port. It will provide ethernet connected devices with a more reliable and faster connection when combined with ethernet backhaul.