Wired security cameras have been around for a very long time. Once, they were only for those with deep pockets and lots of technical know-how. Consumerism has changed everything, and an indoor wireless camera can be purchased at your tech retailer from $50. This guide will look at why you would use video surveillance, what you need to know and how to make your purchase decision.
A wired security camera system is one that not only has a physical cable connection but also a recording devise onsite. There will be one or more cameras and the system can be connected to the internet to review remotely.
WHY should you consider a security camera?
To secure your business or home business where once you may have installed a burglar alarm, security cameras will do this and more.
Benefits of a wired security camera
Deterring crime- A thief does not want to be caught on video
Video proof – If an incident does occur, footage can be reviewed, and police can use images
Check up on the business remotely – Is the store busy at the moment
Employee safety- Watch and review staff member behaviour to ensure safety procedures are being followed.
Insurance claims – Camera footage can validate a claim, or the camera may lead to a discount
24/7 recording – A mains power supply and onsite large storage device means all cameras can record all the time, providing you with a complete record.
Realtime large-screen viewing of camera footage. Onsite you can have a large monitor versus a small smartphone screen.
WHAT security camera technology do I need to understand?
There are wireless and wired camera solutions. A wireless camera solution uses a wireless network solution such as your Wi-Fi network to transport the video. A wireless camera may also have a battery enabling it to be completely wireless.
Advantages of a wired camera over wireless
No batteries to keep charged
No monthly fees for cloud storage are required as you have your own onsite storage
Higher quality and more reliable video versus using Wi-Fi to transport
Cables are less likely to be hacked versus a Wi-Fi signal
A cable length can reach far further than a wireless (Wi-Fi) signal
Disadvantages include installing the cable and power outages (blackouts).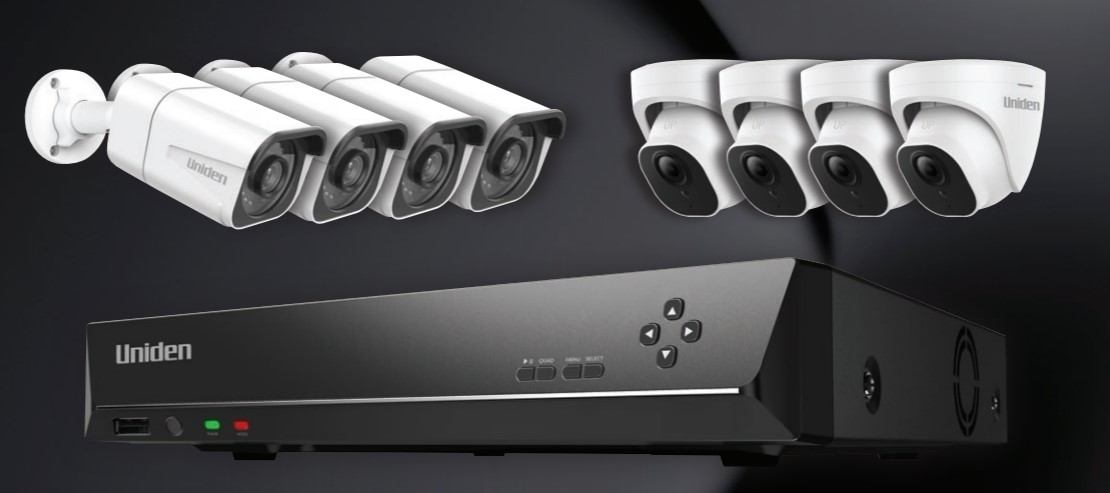 There are two types of modern wired security camera systems. A DVR (Digital Video Recorder) requires an analogue coaxial video cable and a power cable. The newer NVR (Networked Video Recorder) systems use a single ethernet cable to power the camera and carry a digital video signal. Both DVRs and NVRs can connect to the internet via an ethernet cable. NVRs have the latest technology and are capable of recording at a higher video quality. NVRs also incorporate features found in wireless camera solutions, such as two-way talk and smart detection. An NVR with its extra features will be more expensive than a DVR.
HOW do I use and choose a wired security camera?
NVR/DVR setup
The setup of a wired surveillance system is very simple, except for running cables.
Select a location for the video recorder box (DVR/NVR) that has power and can accommodate a TV or monitor with an HDMI cable. For remote monitoring, you will also need internet access.
Select suitable locations for your camera, considering whether the camera can capture what you want to record.
Run the cables between the cameras and the video recorder. You may need longer cables or extensions and the assistance of an electrician. Consider the aesthetics and the vulnerability of an exposed cable being cut.
Connect your monitor via HDMI cable and the mouse to the DVR/NVR.
Follow the on-screen instructions to customise settings (such as alerts) and enable remote viewing from a smartphone app.
Familiarise yourself with recording settings and how you can playback live video as well as recorded video.
Features you should consider when buying a wired security camera:
Outdoor or indoor– If the camera is located outside, it will need to be weatherproof
Camera types – There are two common types of cameras – Dome and Bullet. Both can be mounted in most locations. Bullet are normally better for long-range video, whilst dome tends to have a wider viewing angle and are suited to shorter distances. Optical zoom and pan and tilt functionality which is more expensive, will give you better live viewing options.
Resolution of the camera – The higher the resolution, the better the quality of the picture and the greater ability to zoom in digitally to see details such as faces and number plates. You can choose between Standard Definition (SD), High definition (Full HD) or Ultra High Definition (UHD or 4K). Each resolution jump is 4 x the number of pixels or dots.
Viewing angle of the camera – This refers to the field of vision of a camera. The larger the number represented in degrees means the camera will record a wider view in tight locations. A camera with a 90-degree viewing angle would see everything 45 degrees left and right from the centre.
Low light – Also referred to as night vision, is the cameras ability to see in the dark. Most modern cameras will support this but look for the distance from the camera it will see. E.g. 10m
Wireless camera's – Some fixed camera solutions will also allow wireless cameras to be included and recorded. This has some disadvantages, as discussed above but has a massive installation advantage.
Technology to stop false alerts – Normally based on measuring a heat source in the camera view, this technology is critical in reducing false alerts, especially on a windy night with moving vegetation. Alerts can also be programmed only to occur at certain times, like outside business hours.
Other – various other features may be attractive to you like Siren, strobe, 2-way audio or a spotlight
DVR or NVR – As discussed above
Channels – This expressed as 4 channel DVR means you can connect a maximum of 4 cameras. Ensure you buy a DVR/NVR with enough channels for the cameras you require and also consider any future expansion requirements
Hard drive – The DVR/NVR has an internal hard drive where all the video is stored. The larger the hard drive, the more video can be recorded, often also references as hours or days of recording. Note a higher resolution camera will require more hard drive space to record the same time frame of footage
User interface of recorder (DVR/NVR) – A brochure or the marketing on a box can make a product sound very attractive. However, nothing beats doing some research to see how the user interface works and is it simple to use and will it meet your needs? Research on YouTube may prove to be useful. Display options can include rotating single images, multiple cameras at once, and 4 or 9 camera views. More advanced will be a larger image with small pictures to one side.
Remote functionality of an App – A smartphone app will allow you to receive security alerts as well as provide live views from anywhere with internet coverage. This can potentially remove the need for expensive security monitoring with you having the ability to review and call the police if necessary. Multiple people can be given access to share the responsibility.
Solution price and bundle options – Once you choose a brand, you will have to stay with that brand unless you start again. Price will increase with functionality, and we do recommend you go with a known brand. Once you know the number of cameras you need, you may buy a bundle to suit. Different compatible camera types can be purchased and added separately, assuming you have available channels.
HINTS
Some wired cameras will operate independently with an internet ethernet cable and no NVR. An SD card installed in the camera will capture images, as can a cloud-based backup.
As a point of comparison, we have reviewed a DVR and NVR from two well-known brands:
Swann Enforcer Security System 4 channel DVR. This Ful HD analogue recorder comes with 4 cameras and a 1TB hard drive. That 1TB drive is quoted as being able to store up to 6 months of surveillance videos giving you plenty of time to go back to review footage. The weatherproof cameras have a 90-degree viewing angle and can see 10m into the dark. By using the Swann Security app, users can access live and recorded footage from multiple Swann cameras (from wired systems to Wi-Fi standalone cameras to doorbell) and receive alerts when activity is detected. We really like the feature that the cameras have a built-in spotlight and police like red and blue flashing lights that can be activated. This is a great all in one package for a simple surveillance setup.  https://www.swann.com/au/swdvk-446804sl $599.95. Swann has a range of other models including NVR capable of supporting 8 cameras.
Guardian App Cam 4KNVR8 8 channel NVR. This is a 4K digital recorder with a 2TB hard drive. It does not come with any cameras; instead, you can add up to 8 fixed or wireless cameras. When used with the App Cam solo smartphone/tablet app, you can do two-way audio and receive alerts if a vehicle or person enters the field of view. https://uniden.com.au/product/guardian-app-cam-4knvr8/ $499.95
The recommended cameras are available in both a bullet or dome and have 87-degree viewing angles and up to 30m night vision. They are weatherproof and include both a speaker and microphone, allowing you to communicate with someone at the camera. https://uniden.com.au/product/guardian-app-cam-4k-bullet/ $249.95 https://uniden.com.au/product/guardian-app-cam-4k-dome/ $249.95
Alternative cameras must be mains connected and include the Guardian App Cam Home, which is wireless for the video signal. This indoors camera can pan and tilt as well as supporting a real-time conversation with two-way audio. https://uniden.com.au/product/guardian-app-cam-home/ $129.95. The Guardian App Cam Spotlight + is also wireless for the video signal. This outdoor camera includes a spotlight that will illuminate when triggered, being a great deterrent to intruders. https://uniden.com.au/product/guardian-app-cam-spotlight-plus/#1493714178990-db34738f-658e $179.95
We like this NVR solution as you have the flexibility to pick the right camera, including wireless or fixed as well as supporting audio.
SUMMARY – Wired security systems
A wired security camera allows you to have movement alerts high-quality video recordings of activity at your business 24/7. The system can act as a burglar alarm, evidence of an event or even safety monitoring. Some solutions allow integration with a wireless camera. Still, fixed are likely to be of higher quality video and more reliable. Via a smartphone app you can receive movement alerts and also view cameras in real-time. This access can be shared with others.
An out of the box solution does not require professional installation, although you may need help running cables. A configurable solution allows you to mix and match different cameras to suit your exact requirements.
Wired security cameras can be purchased directly or from office supply and electrical retailers.