As a small business owner, you watch over your business carefully. You ensure process is working, you count the money etc. However, do you actually watch over your business literally when you are not there? In this wireless security camera buying guide, we will look at why you would install one, what you need to know and how to make a buying decision.
A wireless security camera is a surveillance camera that can capture video images and transmit those images with no wires back to a recording devise either on premise or to the cloud. A power cable or battery will be required to provide electricity.
WHY should you consider a surveillance camera?
The ability to watch what is going on remotely within your business means you are always in the know.
Once you may have installed a burglar alarm to protect your business or home, a security camera can do so much more.
Benefits of installing a wireless security camera:
Deterring crime– A thief does not want to be caught on video
Video proof – If an incident does occur, footage can be reviewed, and police can use images
Check up on the business remotely – Is the store busy at the moment
Employee safety– Watch and review staff member behaviour to ensure safety procedures are being followed.
Insurance claims – Camera footage can validate a claim, or the camera may lead to a discount
Notification – Be alerted a customer has entered your showroom
Progress or conditions – What is the weather or progress on a building site.
WHAT do you need to know about wireless security cameras?
There are wireless and wired camera solutions. A wireless camera solution uses a wireless network solution such as your Wi-Fi network to transport the video. A wireless camera may also have a battery enabling it to be completely wireless. A wired camera will require you to install cables running from a central recording box as well as power cables.
A wireless camera will record vision once motion is detected.
Advantages of wireless over wired camera
No cables need to be run back to a central recorder
Video surveillance can be stored in the cloud. This means images can be easily accessed from anywhere, and even if thieves remove the camera, images are preserved.
Installation is simpler, and a completely wireless solution may give you additional placement options to increase visibility.
Cables cannot be cut.
DIY solution. An electrician or tradesman is unlikely to be required.
Disadvantages include possible limits to live viewing and maximum resolution.
Wireless Cameras comer in 3 forms:
Battery operated mobile networked cameras – This product can be placed anywhere with mobile phone reception and will run until its battery runs out. The video vision is transmitted back to the cloud via mobile data. Perfect for surveillance of a building site with no internet or power.
Battery operated Wi-Fi Cameras – This is the most common type of camera which will use W-Fi to communicate back to the cloud or a base station and a battery to power the unit. This solution is truly wireless.
Mains connected Wi-Fi cameras – Mains power is required, but the video signal is transferred via Wi-Fi. With a power point likely to be close by, this type of camera will allow continuous recording, which requires more electricity.


An optional Solar panel may be available to power and battery-operated charge cameras, potentially removing the need to remove the camera for mains recharging.
Wi-Fi coverage needs to be good – If you mount a camera outdoors, chances are the Wi-Fi coverage will be poor. Wireless cameras need good coverage to work properly. Wi-Fi congestion can also be an issue. Video uses a lot of bandwidth. If there is a lot of other internet traffic, the transfer of video may be interrupted. Some vendors use a dedicated Wi-Fi network to transfer the footage, but most use your shared Wi-Fi network. Most cameras will also have an SD card slot where a storage card can be inserted. This allows for local storage of images and acts as a backup if cloud storage is interrupted or not used.
All wireless cameras will be supported by a free smartphone app. This App will enable you to receive alerts, live view and watch historical recordings. The App will also allow you to customise camera settings. Depending on features, you can also trigger alarms, turn on a spotlight and engage in a 2-way conversation.
Cloud storage enables recorded footage to be stored off-site and accessed from anywhere. Vendor-specific, this may be free, or a fee may apply.
HOW do I use and choose a wireless security camera?
Wireless camera setup
The setup of a wireless camera is very much a DIY exercise:
Connect the camera to power with the supplied USB cable. For battery models, this will charge the battery.
Download the App for your smartphone.
Open the App and follow the instructions.
Select suitable locations for your camera, considering whether the camera can capture what you want to record and the Wi-Fi signal is strong enough.
Use the App to customise settings (such as alerts) and enable cloud recording if applicable.
Familiarise yourself with playback settings and how you can view live video versus recorded video.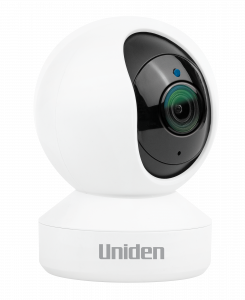 Features you should consider when buying a wired security camera:
Outdoor or indoor– If the camera is located outside, it will need to be weatherproof|
Wi-Fi vs Mobile of 4G cameras – as discussed above
Camera types – beyond the power choice options (battery or mains power), cameras can be bought as a fixed direction or a pan & tilt model. The fixed version view can only be changed manually versus a pan and tilt model that can be rotated to change the view remotely. Some cameras will offer optical zoom, which will provide an enlarged picture without deteriorating resolution.
Battery – On battery models, what is the expected operating time between recharges
Resolution of the camera – The higher the resolution, the better the quality of the picture and the greater ability to zoom in digitally to see details such as faces and number plates. You can choose between Standard Definition (SD), High definition (Full HD) or Ultra High Definition (UHD or 4K). Each resolution jump is 4 x the number of pixels or dots.
Viewing angle of the camera – This refers to the field of vision of a camera. The larger the number represented in degrees means the camera will record a wider view in tight locations. A camera with a 90-degree viewing angle would see everything 45 degrees left and right from the centre.
Low light – Also referred to as night vision, is the cameras ability to see in the dark. Most modern cameras will support this but look for the distance from the camera it will see. E.g. 10m.
Technology to stop false alerts – Normally based on measuring a heat source in the camera view, this technology is critical in reducing false alerts, especially on a windy night with moving vegetation. Alerts can also be programmed only to occur at certain times, like outside business hours.
Mounting kits – A magnetic mount will allow easy removal for recharging. Mounting straps allow easy installation on tree branches or poles.
Other – various other features may be attractive to you like Siren, strobe, 2-way audio or a spotlight
Remote functionality of an App – A smartphone app will allow you to receive security alerts as well as provide live views from anywhere with internet coverage. This can potentially remove the need for expensive security monitoring with you having the ability to review and call the police if necessary. The App will also notify you of low batteries. Multiple people can be given access to share the responsibility.
Storage – Camera's or base stations will support an SD card to record vision on-premise. In addition, cloud backup is available from most vendors on various pay per use plans (some free).
Solar Panel – Is it available for your model, and can it be installed to orientate to the north?
Solution price and bundle options – Once you choose a brand, you will have to stay with that brand unless you start again. Price will increase with functionality, and we do recommend you go with a known brand. Once you know the number of cameras you need, you may buy a bundle to suit. Different compatible camera types can be purchased and added separately, assuming you have available channels.
HINTS
Once you commit to a specific brand of cameras, you cannot mix and match different brands of cameras as they will not work on the same smartphone App. You must either start again with a new vendor or run multiple Apps.
Use the QR code to easily find the right App.
Handy features include the ability to mask a section so no video is recorded or no motion alerts triggered within a specific part of the field of view.
Are Wired security camera buying guide can be found here.
SUMMARY – Wireless Security Camera
A wireless security camera allows you to keep an eye on your business 24/7. The system can act as a burglar alarm, evidence of an event or even safety monitoring. The available solutions are simple to install yourself and can be located anywhere you have a Wi-Fi signal. Via a smartphone App you can receive movement alerts and also view cameras in real-time. This access can be shared with others.
A configurable solution allows you to mix and match different cameras to suit your requirements, including totally wireless products that use the sun for power and the Mobile phone network.
Wireless security cameras can be purchased directly from vendors or from office supply, hardware and electrical retailers.