We rely so heavily on technology, and every year we seem to have more and more gadgets.
Once, we just needed to change the battery in our watch once a year. Now we must charge our devices every day or more! Specifically for Apple users, we test the HiRise 3 Wireless Charging Stand to understand its worth.
A Wireless Charging Stand is a small plinth that allows you to rest your device on it to charge device/s without cables.
The Apple ecosystem encourages you to buy all their products. If you have an iPhone, chances are you also have an Apple Watch and a pair of Airpods. If you were to charge these devices out of the boxes, you would need 3 cables and potentially 3 power supplies plugged into 3 power points. That is a mess of cables.
The HiRise 3 wireless charging stand allows you to ergonomically and simultaneously charge your Apple iPhone, Watch and Airpods.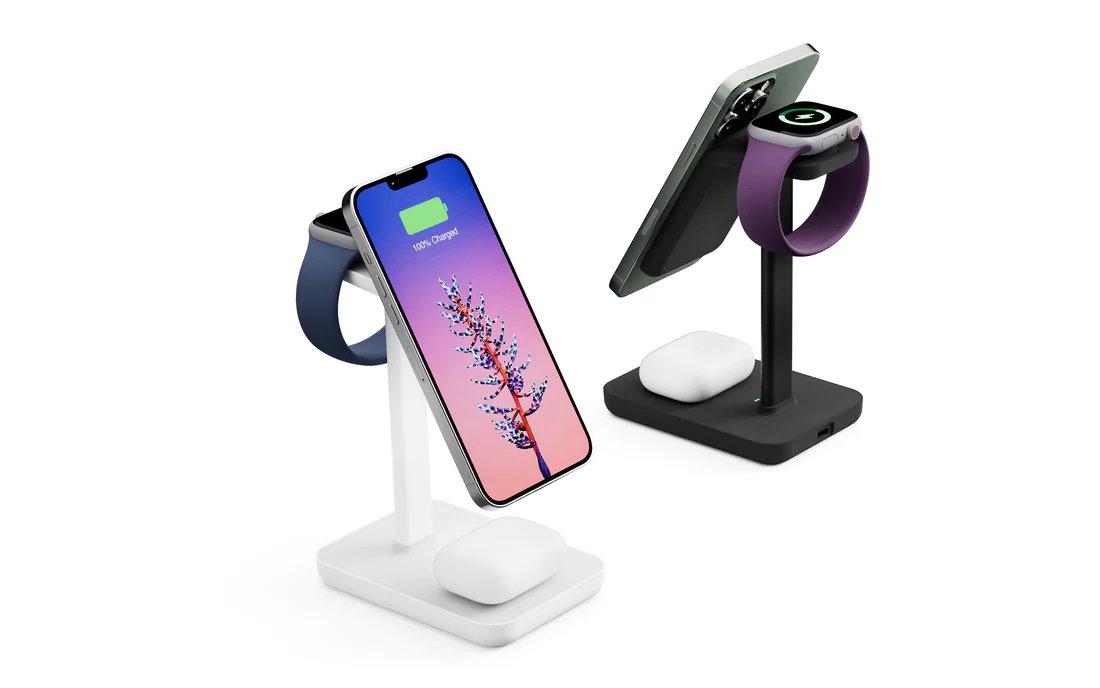 Benefits of a HiRise 3 wireless charging stand:
Compact design declutters your desk or bedside table.
A single supplied cable replaces the need for multiple cables. (Note you do require a 20w USB-C power source)
Pleasing aesthetic design to match the Apple styling.
A vertical stand magnetically holds your iPhone for easy reference to the screen.
The HiRise is available directly from twelvesouth for $179.95
Impressions of the HiRise 3 Wireless Charging Stand
This stand will only work with iPhone 12 and 13 models. You must have AirPods Pro with MagSafe Charging Case. Any Apple watch will charge. If all three products are placed on the stand, it will take approximately 2 and a half hours to bring all to a full state.
A handy feature is that any wirelessly charging capable smartphone, including Android phones, can be charged on the lower charging base—a handy feature when friends need a top-up.
Available in black or white, the stand is an attractive addition to a desk or bedside table. It has a very sturdy construction and a reasonable weight, so your phone will be stable when attached and not topple over. We did not like the silicone feet on the bottom, which slide easily on a desk. This can be easily fixed by adding your own rubber stick-on pads, but we would like to see this change in future models.
Our takeaway from using the HiRise 3
The true test of any product to support Apple is to get an Apple fanboy/girl involved. I enlisted my 24-year-old daughter to give me her feedback. Her desk and background are styled, and Android is a dirty word. Her feedback was simple she loves how slim and neat the product is and likes that she can see alerts on the screen within her eye line. Beyond that, her generation just expects everything to work; in the case of the HiRise 3, it just does.